Quora精选:学外语最好用的方法
作者:Quora用户
2019-12-06 00:00
What are the best ways to learn foreign languages?
学外语最好的方法是什么?
获得803.8k好评的回答@Gruff Davies:
In fact, there's not one trick but a whole suite of tricks to help you learn a language. I'll use French as an example, but this advice applies to any language.
其实有助于你学习语言的方法不止一种,而是一整套方法。我以法语为例,但这条建议适用于任何语言。
1. Understand the Language Learning Journey
1.理解学习语言的过程
People largely give up because they had the wrong expectations set. So let's bust some myths:
很多人放弃是因为他们有错误的期待,我们来揭秘:
1) Learning a language isn't hard. It's just LONG.
1)学语言并不难,只是时间长。
2) Everyone is naturally good at languages. You already learned one, remember? You've just forgotten how long it took.
2)每个人都天生擅长学习语言。你还记得吗,自己已经学会一门语言了,你只是忘了花多长时间学会母语的了。
I'm going to use a metaphor that I hope will help you get the knack. I think of learning a language a bit like climbing a mountain (a large but easy mountain, the sort that anyone can climb so long as they keep going).
我要用一种比喻,希望能帮你掌握外语学习方法。我认为学习语言有点儿像爬山(很高但好爬的山,是那种只要坚持任何人都能登顶的山)。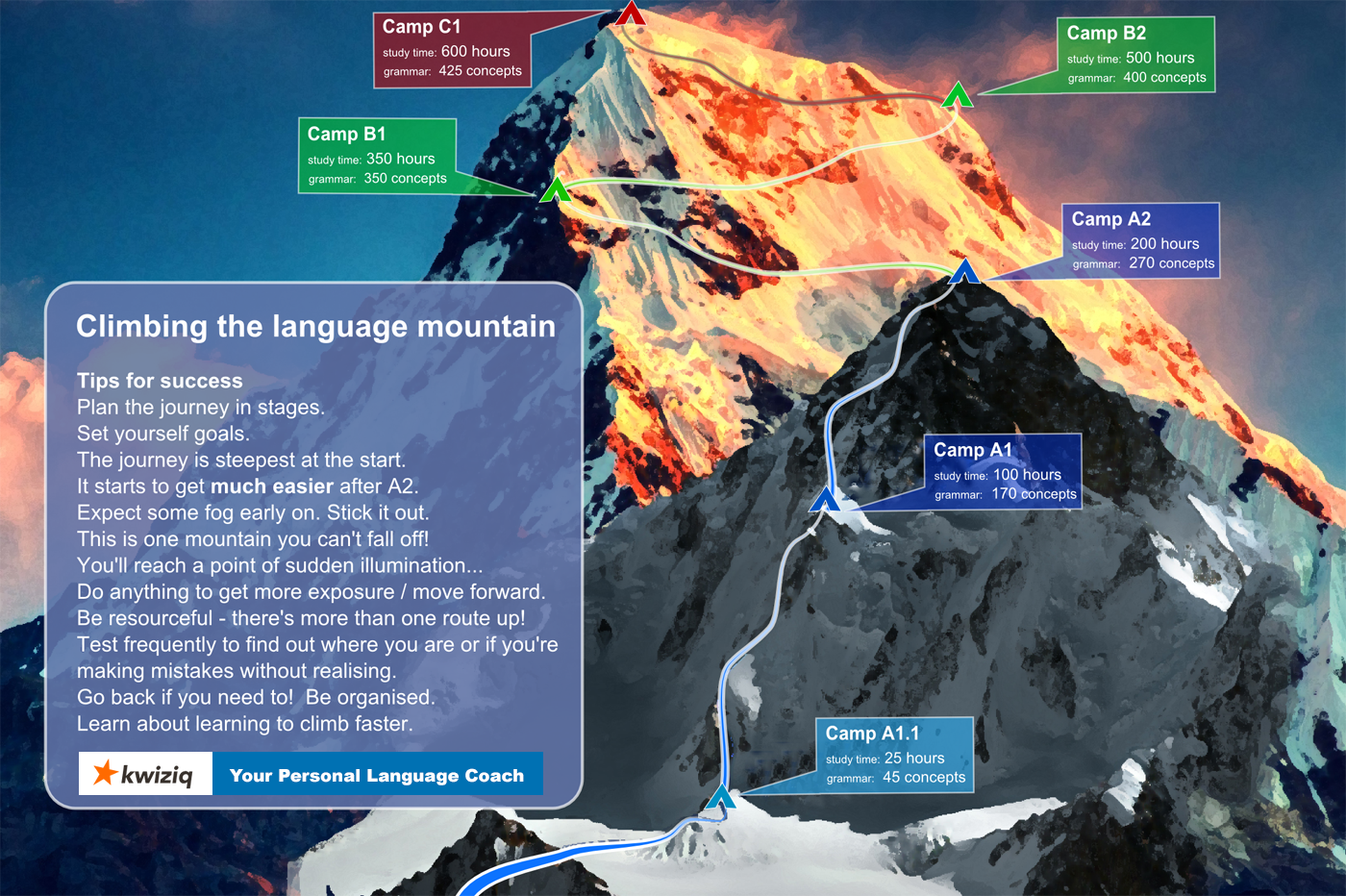 2. Intensity is vital to learning a language quickly.
2.快速学成语言强度很关键。
To use my mountain metaphor, the ground is icy and slippery and the faster you can climb, the less you will slip back.
用我的登山比喻说明一下,地面上结了冰,很滑,你爬得越快,后退得越少。
3. Be kind to yourself
3.对自己好一点
I've used sunlight in this mountain metaphor to give you an indication of how it feels to be at these levels.
我在登山比喻中用到了阳光,是想暗示你到达这个水平感觉如何。
Expect a lot of fog and confusion for the first few hundred hours. EVERYONE feels this way, even the people who seem really gifted at languages. The difference is, anyone who's already been through that and reached the sunlight expects this stage, and it doesn't faze them because they know they'll get there eventually.
你要预料到前几百小时会充满迷雾和困惑,每个人都是这种感觉,即使真的很有语言天赋的人也是如此。区别在于任何已经穿过了这一阶段到达阳光地带的人一直期待着这一阶段,他们没有被吓倒因为他们知道自己终会成功。
4. Prepare for the journey
4.为这一旅程做好准备
If you're a complete beginner I find it's really important to absorb the sounds of the language before beginning serious study.
如果你一点基础都没有,我发现真正学习之前先接触这种语言的声音真的很重要。
5. Practise looking stupid
5.练习看起来很傻
You will speak and not be understood and you will listen and not understand. It's really okay and in fact necessary to learning. Feeling stupid is actually a sign of progress.
你说话别人听不懂,别人说话你又听不懂,这都没关系,其实是学习的必经阶段。感觉自己很笨其实是进步的标志。
6. Find out where you are (and therefore what the next stage is)
6.知道自己是什么水平(就能知道下一步怎么做)
7. Set goals
7.设定目标
I highly recommend setting short term and longer terms goals. Short term goals can be as simple as how many hours of study you will do each week. Set longer terms goals like passing a specific CEFR level.
我强烈建议设定短期目标和长期目标。短期目标可以简单到每周学习几小时,设定长期目标,比如通过CEFR(欧洲语言共同框架)标准。
8. Repetition, Repetition, Repetition
8.重复、重复、再重复
Repetition is absolutely vital to learning most things but especially important when learning a language.
重复在学习大多数东西时都是绝对重要的,学语言时尤为重要。
9. Recall is more important than revision
9.回忆比复习更重要
Practising recall has proven to be 300% more effective than revising something.
回忆练习经证明比复习效率高出300%。
10. Rote learn set texts in a foreign language
10.死记硬背外语文本
This is my number one trick and I've found this to be singularly the most effective method in acquiring a language rapidly.
这是头等重要的技巧,我发现它是快速学习语言最为行之有效的方法。
11. Sleep
11.睡眠
Sleep is vital to memory.
睡眠对记忆力至关重要。
12. Exercise & Nutrition
12.锻炼&营养
If you exercise, you get huge mental benefits. Eating healthily, just like exercise, has amazing cognitive benefits.
锻炼对头脑有很大好处。吃得健康和锻炼一样,对认知有惊人的好处。
13. Learn about learning
13.学会学习
This is about just taking time to reflect on what work best for you and thinking about how to improve on what you're doing.
这指的是花点时间反思一下什么方法最适合你,以及如何提高你目前的学习方法。
Hope that's helpful!
希望对你有所帮助!
(翻译:菲菲)