从《芳华》到《妖猫传》,陈凯歌新作引发热议
作者:中国日报
来源:Chen Kaige's new movie sparks polarizing debates
2018-01-06 09:00
新上映的《妖猫传》大家都去影院看过了吗?电影上映后引发一众热议,影评出现两极化,你认为这是陈凯歌导演的最新力作还是又一次失败的尝试?如何用英语表达一些电影相关内容?快来看看吧!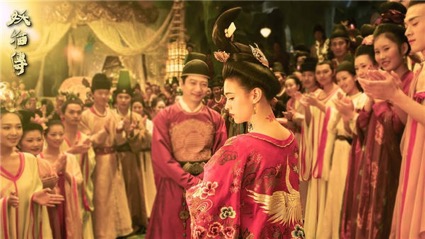 Chinese movie-goers have been rushing from screen to screen during the New Year's Day holiday, as several domestic movies were released near the beginning of 2018.
中国影迷们在元旦假期涌入影院观赏多部影片,许多国产大片都赶在2018年开始之初上映。
From Youth, which was released half a month ago and topped the box office with one billion yuan ($150 million), to Miracles of the Namiya General Store which came out two days ago, domestic movies have been taking turns at the top of the trends on Chinese social media.
从半个月前上映的十亿票房作品《芳华》,再到两天前才上映的《解忧杂货店》,国产电影轮番占领着国内社交网络的热议话题榜。
Among the new releases, Legend of the Demon Cat directed by Chen Kaige, one of China's fifth-generation directors, became the one with the most polarized comments online. While many hailed it as the best Chinese film of the year, there are also some calling it another one of Chen's recent "bad productions".
在新上映的电影中,由中国第五代导演之一的陈凯歌拍摄的《妖猫传》引起了网上热议,评论出现严重的两极分化。许多人声称这是今年最佳国内影片,但同时又有许多人称这不过是陈凯歌最近导演的又一部"烂片"。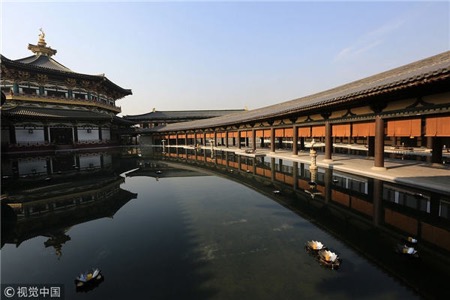 Legend of the Demon Cat is an adaptation of Japanese writer Yoneyama Mineo's novel Samana Kukai. Considering the limit of a cinematic run time , the movie sanded the edges and saved only the core scenario of Chinese poet Bai Juyi and Japanese monk Kukai's investigation on the truth behind the death of Yang Yuhuan, the most beloved concubine of Emperor Xuanzong of the Tang Dynasty (618-907).
影片《妖猫传》改编自日本作家梦枕貘(米山峰夫)的小说《沙门空海之大唐鬼宴》。考虑到影片时间有限,电影删去了其他情节,仅保留了一个主要故事。影片讲述了诗人白居易与名叫空海的和尚联手调查杨贵妃死因的故事。杨贵妃,本名杨玉环,是唐朝皇帝唐玄宗最宠爱的贵妃。
Despite the mysteries and suspense enveloping the whole movie, the grand vision of the Tang Dynasty in its heyday is a highlight of the movie and its recreation has impressed both audiences and film critics alike.
尽管整部影片都充满了神秘和悬疑色彩,但是全片最大亮点还是在于它还原了唐朝鼎盛时期的宏伟景象,惊艳了观众和各路影评人。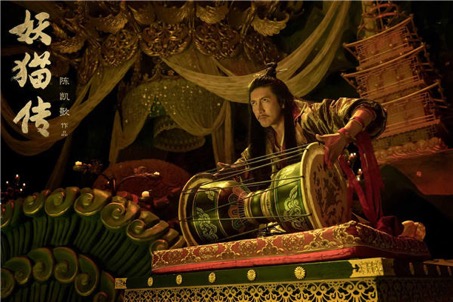 Polarized comments: Top-level film or another failed attempt?
两极分化的评论:这到底是部佳片还是又一次失败的尝试?
However, after its opening, the polarized opinions have become even more popular than the film itself.
然而在电影上映后,两极分化的影评甚至炒得比电影本身还要热。
Most of the insiders gave a thumb up to the film. Han Han, an influential Chinese writer, film critic and new director, said it is a "top-level" domestic film, while director Lu Chuan said it is "a real visual feast, worth watching for a second and third time in the cinema".
大部分业内人士都给这部影片点赞。中国著名作家、影评人和新晋导演韩寒称,这是一部"顶级"国产影片。另外,导演陆川也称,这是一部"真正的视觉盛宴,值得大家走进影院二刷三刷"。
"It would be unjust to smear it while deliberately ignoring the obvious effort of the crew and the outstanding performances of the actors," said Lu.
陆川说,"如果连导演摄影美术等主创显而易见的努力以及等一众优秀演员的杰出表演都漠视,以烂片之名而棒杀,也真的是一桩冤案。"
"It is a confrontation between the adolescent and the adult," said Jiang Fangzhou, one of China's young writers. Xia He, another post-1980s writer, called him "a master who has always devoted himself to exploring reincarnation and destiny".
中国青年作家之一蒋方舟评价说"《妖猫传》是一次少年和成人世界的对抗。"另一位80后作家夏河称赞陈凯歌为"永远在用恢宏的篇幅探讨着轮回与宿命的那位大师。"
The film was scored 6.9 on douban.com, a Rotten Tomatoes-like aggregation platform for movies, music and books. Most of those who gave the film the highest five-star rating said it is a highly-symbolic production that probes into truth and lies, love and hate, hypocrisy and sincerity, as well as the darkness and kindness in power and humanity.
该片在豆瓣网的评分为6.9。豆瓣网是类似于烂番茄一样的网站,主要提供各类电影、音乐及书籍的相关评论与信息。大多数给本片打出五星高分的观众称这是一部充满象征意味的电影,探讨了真相与谎言,爱与恨,虚伪与真实,展现了权力和人性之中的善与恶。